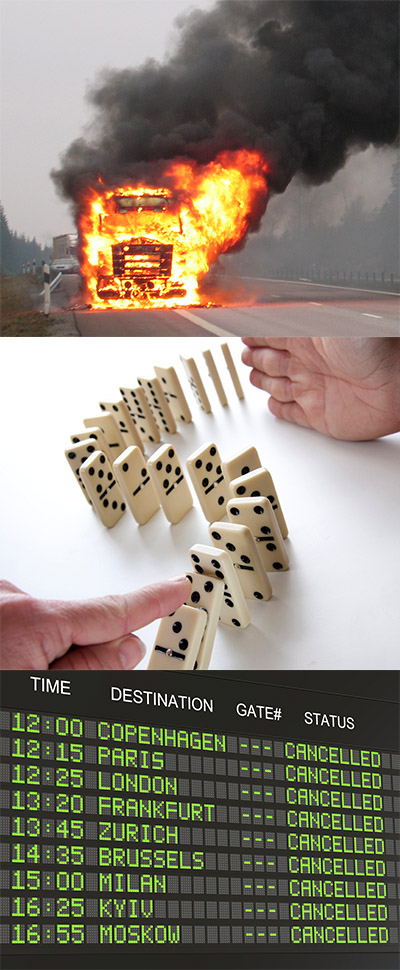 Escalating incidents in complex environments can lead to severe cascading effects and quickly become extremely difficult for emergency services to handle. Such incidents can have enormous consequences with respect to life, property and the environment and for both infrastructure and the general public.  These consequences can in many situations have both direct and indirect effects, not only in the immediate surrounding geographical area but also across very large areas, potentially extending across borders.
CascEff will improve our understanding of cascading effects in crisis situations through the identification of initiators, dependencies and key decision points. These will be developed in the methodological framework of an Incident Evolution Tool which will enable improved decision support, contributing to the reduction of collateral damages and other unfortunate consequences associated with large crises.
The main objectives of the CascEff project are:
Better understanding of the cascading effect in crisis situations.'
Develop an Incident Evolution Tool for predicting present and future crisis evolution leading to cascading effects.
Identification of human activities in the crisis.
Improved incident management for present and future threats.
The 1 of April 2014 the project CascEff started and the 22-23 of April the General Assembly had their first meeting in Borås, Sweden.
The consortium consists of 13 partners, universities and research institutes coming from five EU member states. The CascEff consortium has also appointed an independent External Expert Advisory Board (EEAB) comprised of end users of the results of the CascEff project to ensure that the tools developed are truly useful in a real-life situation.
CascEff (Cascading Effects) – "Modelling of dependencies and cascading effects for emergency management in crisis situations" (Grant agreement no:607665) is performed and funded under the Seventh Framework Programme (FP7) of the European Union (SEC-2013.4.1-2).